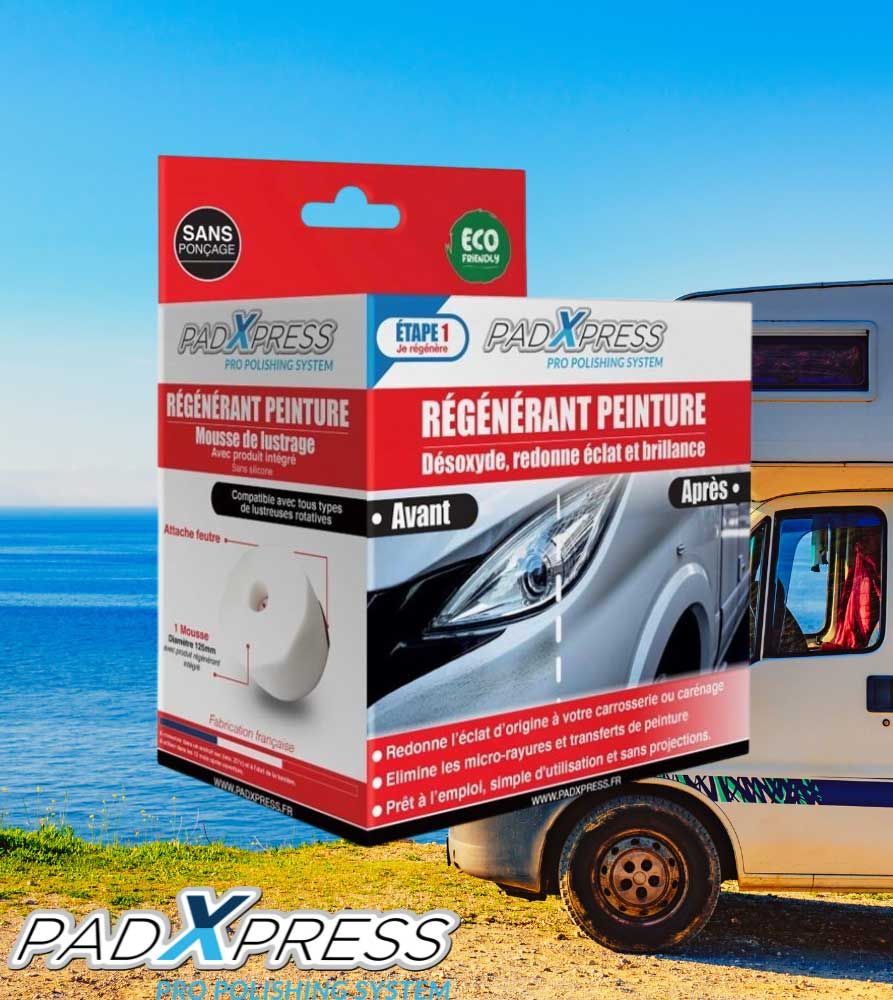  
PadXpress Camping-Car - High performance paint regenerator - Ø125mm - (CC500)
PadXpress Camping-Car - High performance paint regenerator - Ø125mm - (CC500)
Deoxidizes and restores shine to your paint
Eliminates shallow scratches
Removes paint transfers
Non-abrasive 4 times faster than a traditional technique
Easy to use and without projection
Bodywork treatment (Ø125)
The paint polish is directly integrated into the polishing foam.
One pulse against the surface to be treated and the product is released
Eco-Friendly
Approved and certified action
PadXpress Paint Regenerator: the ideal solution to bring your bodywork back to life

Your motorhome's paint is subjected to the daily stresses of time, weather, UV rays, micro-scratches, paint transfers and scratches. All of this contributes to its aging and loss of shine and brilliance. That's why it's important to take care of your car's body. In this article, we introduce you to PadXpress Paint Refinisher, a unique solution to bring your car back to life in a few quick and easy steps.

Why should you use PadXpress Paint Regenerator for your motorhome?

A unique technology

The technology used in the PadXpress special paint regenerator is unique in the world. It allows you to quickly and easily renovate the body of your motorhome without effort. The product is non-abrasive and deoxidizing, making it the ideal solution to bring your bodywork back to life.
Eliminates micro-scratches

Micro-scratches are a common problem on the body of a motor home. They can appear at any time, even during the daily use of your vehicle. PadXpress Paint Regenerator removes these micro-scratches and makes your vehicle look like new again.
Easy to use

Whether you're a homeowner or a professional, you'll appreciate the ease with which you can use PadXpress Paint Refinisher. Its unique device is in the form of a foam with an integrated product tank. The Pad is ready to use immediately. A simple pressure and you release the regenerating cream developed by PadXpress. Thanks to its velvet/velcro fastener, the Pad can be attached to all polishing machine plates.

Data sheet
Brand

PadXpress

Name of product

PadXpress Auto - High Performance Paint Regenerator

Product type

Special paint regenerator

Utilisation

Any type of painted body

Benefits and gains

Deoxidizes and restores shine to your paint. Eliminates shallow scratches. Removes paint transfers.

Applicable to

Treat for 1 vehicle

Pad diameter

125 mm

Weight

230 grams

Duration and conservation of products

Store foam in its box, in a dry place (maximum temperature 25°C) and away from light. To be used within 12 months of opening

Type of packaging

Carton

Item(s) included in the box

1 Pad diameter 125 mm with integrated tank

Adapter plate Ø125mm for polisher (Ref. PC505)

NOT SUPPLIED - May be purchased at extra charge. Available on site: "Adapter tray 125 mm diameter for polishing machine (Ref. PC505)

ISBN

3760299740205

Equipment(s) required

Rotary polisher (incompatible with orbital polishers)