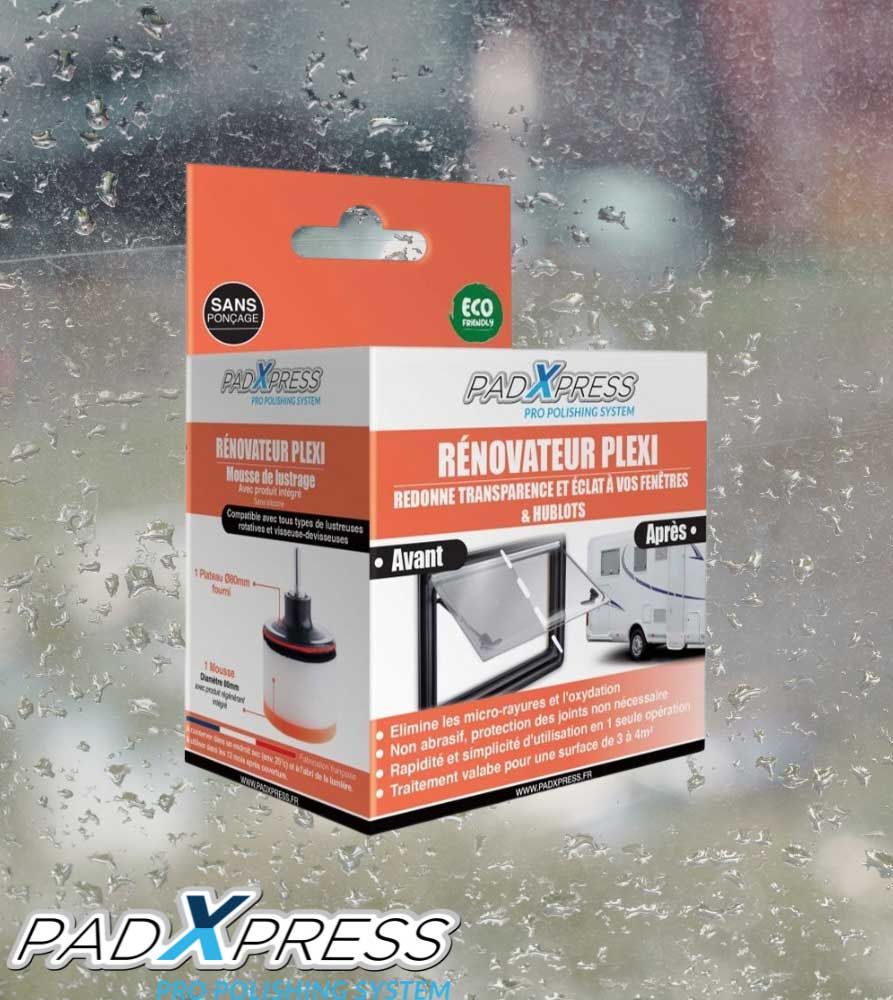  
PadXpress Camping-Car - Plexiglass Window and Porthole Restorer - Ø80mm - (CC530.1)
PadXpress Camping-Car - Plexiglass Window and Porthole Restorer - Ø80mm - (CC530.1)
Restores transparency and shine to your plexiglass windows and portholes.
Removes micro-scratches and oxidation - No sanding or varnishing in one operation.
Joint protection not required.
Treatment valid for a surface of 3 to 4 m².

The renovation polish is directly integrated into the polishing foam. An impulse against the optics and the product is released.

Eco-Friendly

An approved and certified action.
Plexiglas Renovator: Bright windows for your motorhome
Renovate and beautify your Plexiglas surfaces with ease

PadXpress Camping-Car - Plexiglas Renovator Windows and Portholes is the solution for restoring transparency and shine to your Plexiglas windows and portholes. Thanks to its advanced formula, this powerful polish effectively eliminates micro-scratches and oxidation, giving you remarkable results in a single operation. Gone are the days of dull, damaged surfaces, replaced by dazzling clarity that revitalizes your vehicle's appearance.

Data sheet
Brand

PadXpress

Name of product

PadXpress Motorhome - Plexiglass Window and Porthole Restorer (CC530.1)

Product reference

CC530.1

Utilisation

Restores transparency and shine to your plexiglass windows and portholes

Pad diameter

80 mm

Weight

80 grams

Duration and conservation of products

Store foam in its box, in a dry place (maximum temperature 25°C) and away from light. To be used within 12 months of opening

Type of packaging

Carton

Item(s) included in the box

1 Pad diameter 80 mm with integrated tank + Adapter tray diameter 80mm and screw-in rod

Ø80mm adapter plate for screwdriver (Ref. PC531)

Supplied

ISBN

3760299740564

Equipment(s) required

Rotary screwdriver or polisher (circular)