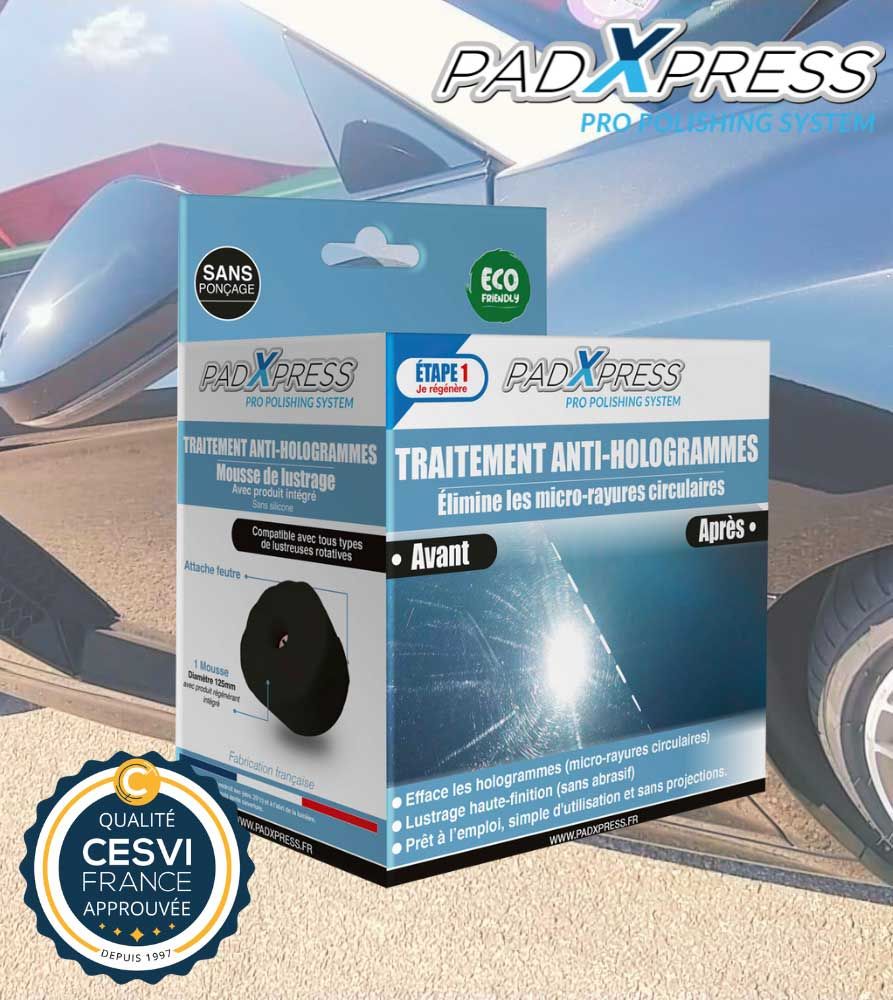  
Padxpress Car - Anti-Hologram body treatment - Ø125mm - (PC540)
Padxpress Car - Anti-Hologram body treatment - Ø125mm - (PC540)
Removes holograms (circular micro-scratches) from your paint
High-finish shine
Body treatment for 2 cars
4 times faster than a traditional technique
Easy to use and without projection
The paint polish is directly integrated into the polishing foam.
One push against the surface to be treated and the product is released
Eco-Friendly
Approved and certified action
Why use PadXpress Anti-Hologram Body Treatment on your car?
Hand washing, rolling and road spray create holograms ("circular micro-scratches" or "spider webs") on your car's body and give the impression of a car with paint defects or poor maintenance. The anti-hologram treatment developed by PadXpress allows you to eliminate all these defects, ensures a perfect shine and gives back to your vehicle the shine of a new paint from the first passage.
Whether you are a private individual or a professional, you will appreciate the disconcerting ease with which you will apply it. Its unique device (PadXpress) is in the form of a foam in which a product tank is integrated. A simple pressure and you release the anti-hologram treatment. Thanks to its velvet clip, the Pad can be attached to all polishing machine plates.
Prerequisites

- Your bodywork must be clean and dry

- Shake the product well before use.

- Make sure that your polisher plate is Ø 125mm
Instructions for use
1- Place the foam applicator on the polisher
2- Place the foam on the part of the body or the fairing to be polished,
3- Apply a vertical pressure on the foam (dry wrist stroke) to make the product come out of its tank
4- Work with regular crossed movements (from left to right and from top to bottom). For your car, select a speed of 1500 rpm, maintaining a light pressure on the foam for a good contact on the support, but without forcing.
5- Work in areas of about 1m². Once this area has been treated, use your micro-fiber to wipe off the excess on the bodywork.
6- Repeat the operation as many times as necessary, depending on the surface to be treated.
7- Once the anti-hologram treatment is finished, it is strongly recommended to apply the Ceramic Protection (ref. PC550) or one of the Titanium treatments (ref. PC510 / PC520) from PadXpress.

One PadXpress Anti-Hologram Treatment foam is indicated to treat 2 cars

Data sheet
Brand

PadXpress

Name of product

Anti-Hologram body treatment

Product type

Anti-hologram Polish treatment

Product reference

PC540

Utilisation

All types of painted bodywork

Benefits and gains

Removes holograms (circular micro-scratches) from your bodywork and hulls. High-finish shine.

Applicable to

For 2 cars

Pad diameter

125 mm

Weight

230 grams

Duration and conservation of products

Store foam in its box, in a dry place (maximum temperature 25°C) and away from light. To be used within 12 months of opening

Type of packaging

Carton

Item(s) included in the box

1 Pad diameter 125 mm with integrated tank

Adapter plate Ø125mm for polisher (Ref. PC505)

NOT SUPPLIED - May be purchased at extra charge. Available on site: "Adapter tray 125 mm diameter for polishing machine (Ref. PC505)

ISBN

3760299740212

Equipment(s) required

Rotary polisher (incompatible with orbital polishers)