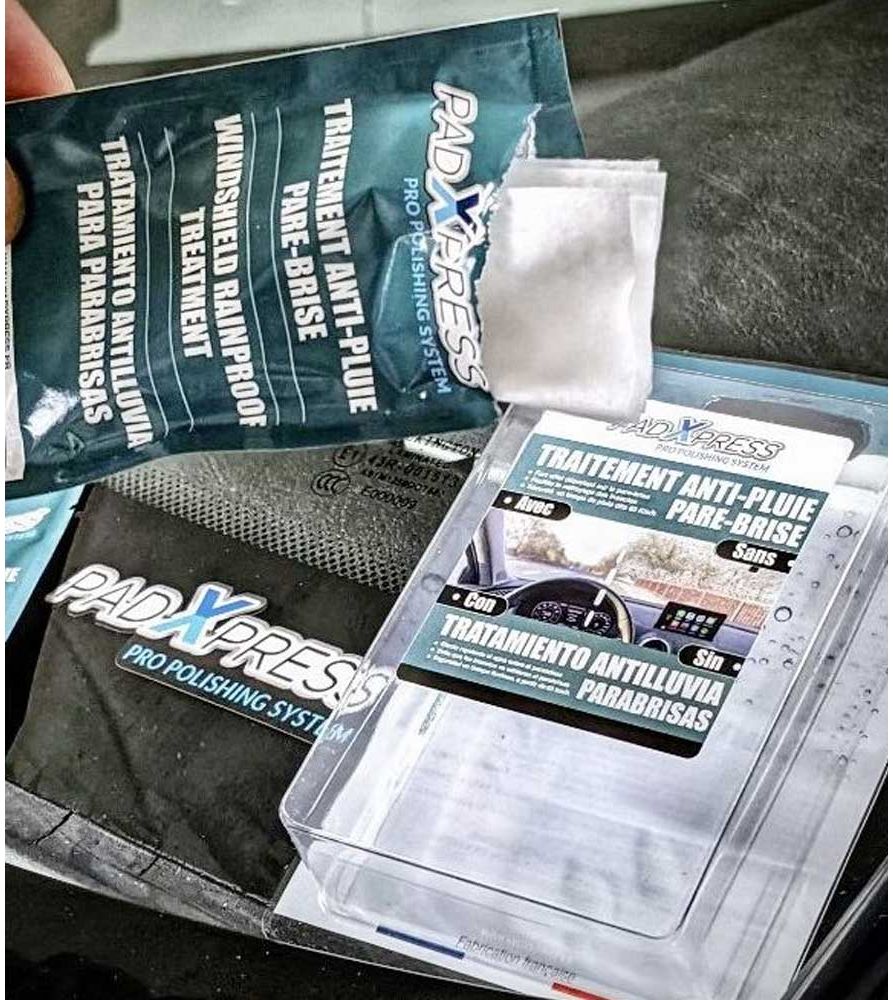  
PadXpress - Car Windshield Rain Repellent - Wipes
PadXpress - Car Windshield Rain Repellent - Wipes
Pack of 2 rain wipes for car windshields
Strong water repellent effect on the windshield
Easy to clean stuck insects
Simple and quick application in one go
Safety in rainy weather from 60 KM/H
Eco-Friendly
An approved and certified action
Why should you use the anti-rain treatment on your windshield?
On the road, visibility is paramount for everyone's safety. As drivers, we have all been confronted at one time or another with rainy weather conditions that make our windshields much less transparent.
Anti-rain treatment is a practical and effective solution to improve visibility when driving in the rain. It significantly reduces the impact of raindrops on the windshield, improving safety and driving comfort.
PadXpress has developed the ANTI RAIN WINDSCREEN to improve the water evacuation of the windscreen so that the windscreen is even cleaner and clearer even in the rain.
In order to properly use our anti rain treatment, it is important to follow the instructions listed below. It is also recommended to clean the windshield thoroughly before application to ensure optimal adhesion of the treatment. The anti rain treatment should be reapplied approximately every three months to maintain its effectiveness.

Data sheet
Brand

PadXpress

Name of product


Rénovateur optiques de phares Auto & Moto

Product type

Rénovateur d'optiques de phares

Product reference

PC530.1

Utilisation


Rénover vos optiques de phares, d'auto et moto, oxydées et opaques. Parfait pour le passage au contrôle technique

Duration and conservation of products

Store foam in its box, in a dry place (maximum temperature 25°C) and away from light. To be used within 12 months of opening

Type of packaging

Carton

Item(s) included in the box

ISBN

3760299740472

Equipment(s) required