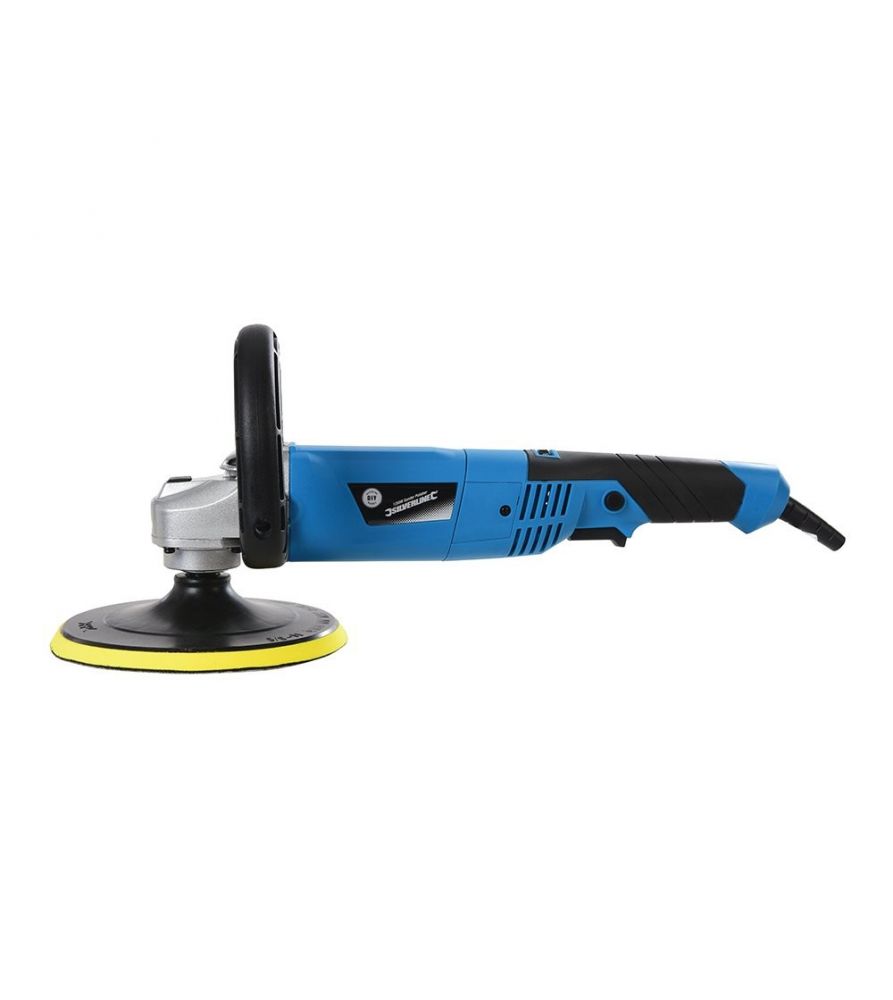  
Silverline Corded Rotary Sander-Polisher 1200W (964569)
Silverline Corded Rotary Sander-Polisher 1200W (964569)
Corded sander-polisher with 180 mm hook-and-loop backing pad for sanding, polishing and buffing
Accepts trays up to 180mm diameter (150mm tray sold as an option for use with PadXpress products)
Variable speed drive.
Robust D-handle for perfect control. Equipped with a continuous operation button and a button for locking the shaft.
Quick and easy access to carbon brushes for replacement if required.
Suitable for all sanding, polishing and buffing operations.
Supplied with hook and loop backing, sanding disc and polishing cap.
Male output shaft M14.
No-load speed: 800 - 3,500 min-1.
The Silverline 964569 polisher/sander is compact and efficient. It is a multi-purpose machine that can be used on different surfaces (car/boat) and can therefore be used for all kinds of work. So if you are looking for a robust and above all high-performance device to perfect the appearance of your car or boat, this device from Silverline will be your best ally!
Appreciated for its multiple functions, this polishing sander guarantees a perfect completion of your polishing work. As one of the best-selling and most popular appliances in its category, this polishing sander will meet all your requirements.
In addition to its robustness, its resistance is also one of the strong points of this machine. Its large plates and powerful motor mean that all types of work can be carried out without fear of wear and tear or overheating of the machine.
Whether you are polishing, buffing or sanding an object or surface, you can rely on the performance of this machine. For DIY enthusiasts who like lightweight machines, this compact unit offers excellent handling.
Offering a maximum power of 1200W, with this polisher you will save time in each of your projects, while ensuring a perfect finish.
To use this machine properly, you just need to adjust its speed according to the surface you want to work on. Its variable speed control makes it easy to adapt to materials and coatings that are sensitive to too high a speed, which can brown or even burn them.
So, using the control knob on the unit, you can increase and decrease the speed of the unit to your liking. And to avoid constant pressure on the trigger during long operations, it can be locked for continuous operation. This polisher also has an anti-start button for added safety, preventing unwanted and unintentional starting.
The Silverline 964569 is compatible with 150 mm diameter discs, which is required for the use of the PadXpress product range.
Very practical, the machine can be used at a variable speed, offering rotation from 600 to 3000 rpm.
You will also find included a sanding disc, spanner and hex screws. To make it easy to handle for both left and right handed people, it comes with a D-handle.
In short, this complete and powerful device will meet all your sanding and polishing needs, on your car or boat!

Data sheet
Brand

Silverline

Name of product

964569

Product type

Polishing and sanding machine

Weight

3,9 Kg

Item(s) included in the box

1 sanding machine, 1 cap, 1 sanding disc, 1 Allen key, 2 screws, 2 washers, 1 handle

Adapter plate Ø125mm for polisher (Ref. PC505)

NOT SUPPLIED - May be purchased at extra charge. Available on site: "Adapter tray 125 mm diameter for polishing machine (Ref. PC505)

Dimensions

L: 20 cm / H: 5cm / W: 10 cm

Disc diameter (Ø mm)

Tray diameter up to 180 mm

Pin

M14

Tension

240 volts

Empty speed (rpm)

6 speeds: 600 / 900 / 1500 / 2100 / 2700 / 300 rpm

Handle

Robust D-handle for right/left handed use

Dust Filter

Removable dust filter for longer tool life

Fund

Included

Warranty

1 year manufacturer's warranty. Register this product on silverlinetools.com within 30 days of purchase to receive the 3 year warranty. The warranty period starts from the date of purchase shown on your invoice.