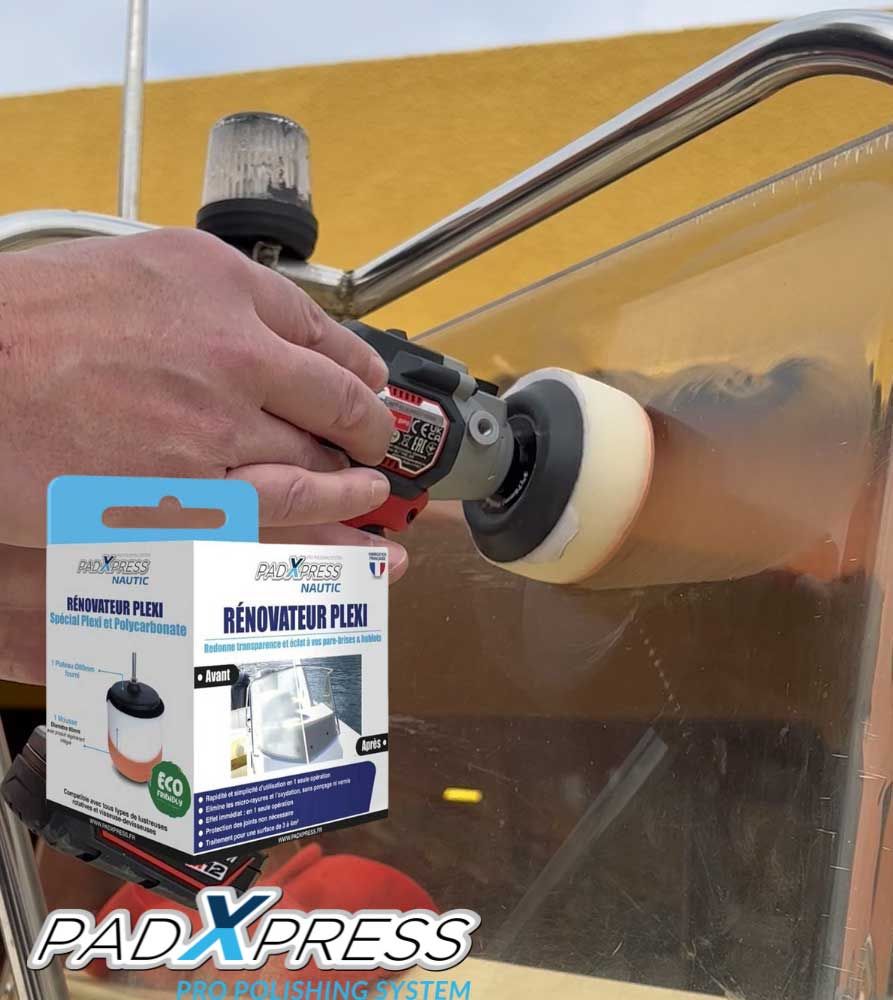  
PadXpress - Special Plexiglass and Polycarbonate Regenerator - Ø80mm - (PB530.1)
PadXpress - Special Plexiglass and Polycarbonate Regenerator - Ø80mm - (PB530.1)
Restores transparency and shine to your windows, windscreens and any part made of plexiglass or polycarbonate.
Quick and easy to use in one operation.
No sanding or varnishing - No joint protection required.
The plexiglass renovator delivered to you allows you to treat a surface of 2 to 3 m² of plexiglass or polycarbonate.
Regenerant directly integrated into a 80 mm diameter polishing foam.
Adapter plate for your screwdriver, included.
The renovation polish is directly integrated into the polishing foam. An impulse against the surface to be treated and the product is released.

Eco-Friendly.

An approved and certified action.
Why use PadXpress Nautic Plexiglas Renovator?
UV rays (ultraviolet rays), water and sunlight contribute to the daily ageing of your plexiglass (windscreens, portholes, glasses, instruments and all other polycarbonate parts) to the point of yellowing and opacity. Apart from the aesthetic aspect, you lose visibility or lighting quality, and therefore safety. Thanks to its unique technology, our renovator will enable you to renovate your Plexiglas in a single operation and without effort. Its formidable deoxidising and non-abrasive qualities make it the ideal solution for restoring the shine and transparency of your Plexiglas. Whether you are a private individual or a professional, you will appreciate the disconcerting ease with which you can apply it. Its unique device (PadXpress) takes the form of a foam with an integrated product reservoir. A simple pressure and you release the renovation cream developed by PadXpress Nautic. Thanks to its velvet fastener, the Pad can be attached to the tray that will be delivered to you and that fits directly onto your screwdriver.
Prerequisites
The surface to be treated (instruments, windscreen, window, etc.) must be clean and dry.
Use the supplied tray (Ø80mm diameter) to attach the foam applicator to your screwdriver or polisher.
To remove deep scratches or varnish from polycarbonate headlights, it is advisable to first sand the area to be treated with a type 3000 abrasive in water (protecting sensitive areas).
Shake the product well before use.
Instructions for use
Position the foam applicator on the polisher and select a maximum working speed of 1500 rpm.
Place the foam on the part of the hull to be polished.
Apply vertical pressure on the foam (dry flick of the wrist) to release the product from the tank.
Work with regular criss-cross strokes, maintaining light pressure on the foam for good contact on the substrate, but without forcing.
Work in areas of approximately 1m². Once this area has been treated, use your microfiber to wipe the excess off the surface.
Repeat the operation as many times as necessary, depending on the surface to be treated.
Once the renovation is complete, it is strongly recommended to wipe with a micro-fibre cloth.
Precautions for use
It is best to protect clothing and use gloves when applying.
Avoid applying to plastic parts.
Do not swallow, avoid contact with eyes.
Do not dispose of product residues down the drain.
Dispose of the applicator foam at an authorised collection point.
Do not use the foam applicator for any purpose other than that for which it is intended.
Keep out of reach of children

Eco-Friendly

An approved and certified action.

Data sheet
Brand

PadXpress Nautic

Name of product

PadXpress Nautic - Special Plexiglass and Polycarbonate Regenerator

Product type

Special Plexiglass and Polycarbonate Regenerator

Product reference

PB 530.1

Utilisation

Special Plexiglass and Polycarbonate Regenerator

Benefits and gains

Deoxidises and removes micro-scratches from your windscreens, plexiglass and polycarbonate windows

Applicable to

Treat an area of 2 to 3 m².

Pad diameter

80 mm

Duration and conservation of products

Store foam in its box, in a dry place (maximum temperature 25°C) and away from light. To be used within 12 months of opening

Type of packaging

Carton

Item(s) included in the box

1 Pad diameter 80 mm with integrated tank + Adapter tray diameter 80mm and screw-in rod

Ø80mm adapter plate for screwdriver (Ref. PC531)

Supplied

ISBN

3760299740328

Equipment(s) required

Rotary screwdriver or polisher (circular)