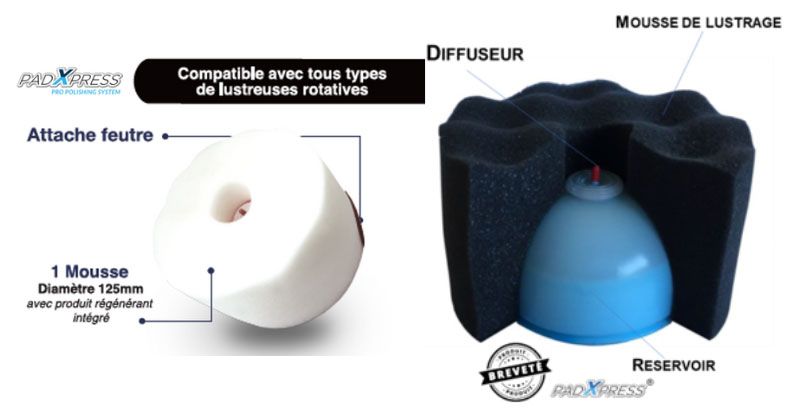 Discover the PadXpress concept.
Founded by the visionary spirit of Libero Mazzone, PadXpress pushes back the boundaries of what is possible in terms of gloss and aesthetic perfection.
The PadXpress revolution: polishing redefined

Imagine a polishing job that combines efficiency, speed and incomparable results. Thanks to our patented invention, we've reinvented the way you approach polishing for your cars, motorbikes, motorhomes and even boat hulls.

Our secret? The intelligent integration of the polishing liquid directly into a bottle cleverly incorporated into the heart of a thick foam adapted to the various polishing operations.
The unrivalled benefits of PadXpress

    Increased efficiency: thanks to our ingenious system, the polishing liquid is released in a controlled way with each press, guaranteeing even distribution and optimum performance. No more incessant adding of products, just perfect polishing in record time.

    Ultimate adaptability: Each PadXpress foam is tailor-made to meet specific polishing needs. Whether you're looking to remove small imperfections or achieve a mirror-like shine, our different foams are adapted to all surfaces and all levels of detail.
Dazzling shine: Thanks to a fusion of technology and a cutting-edge formulation based on nano particles, PadXpress guarantees a brilliant shine. Your vehicles will regain their original shine.

    Guaranteed cleanliness: PadXpress makes polishing a simple, mess-free experience. No need to spray polish on the bodywork, which means less time spent on polishing operations.

Presentation of the concept

Don't miss the video presentation below, hosted by the inventor himself, Libero Mazzone. Libero has spent years honing his skills and pushing back the boundaries of what's possible. His unwavering passion for excellence has led to the creation of PadXpress, a brand synonymous with quality and innovation.
Published on 25-08-2023
| 87 Views