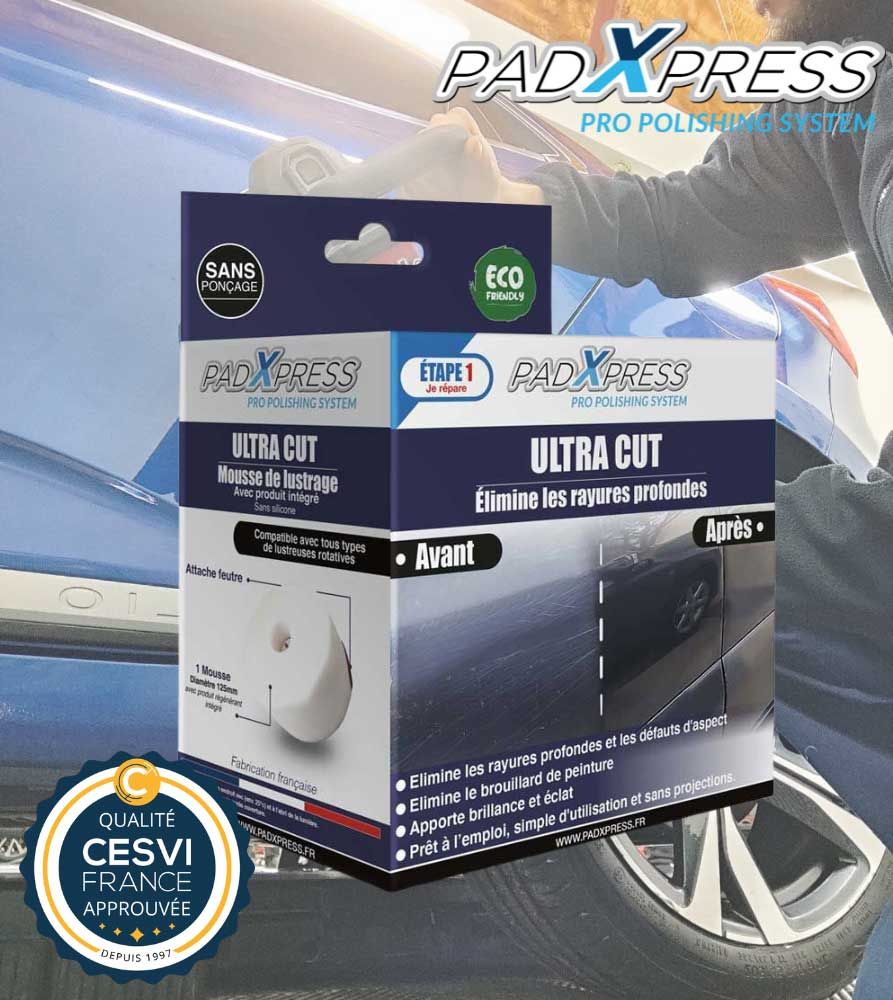  
PadXpress Auto - Anti-scratch treatment - Deoxidizer nanotechnology without abrasive - Ø125mm - (PC800)
PadXpress Auto - Anti-scratch treatment - Deoxidizer nanotechnology without abrasive - Ø125mm - (PC800)
Removes deep scratches and blemishes
No abrasive Removes paint mist Brings shine and brightness to your paint Easy to use.
No spraying.
Ready to use product Bodywork treatment (Ø125) valid for 1 car
The Ultra-Cut polish is directly integrated in the polishing foam.
A pulse against the surface to be treated and the product will be released.
No waste.
Eco Friendly
Approved and certified action
Why use PadXpress Ultra Cut on your car body?
The daily use of your car multiplies the risks to see appearing more or less deep scratches, which is often unpleasant when your vehicle is new or regularly maintained.

Thanks to its unique technology, our Ultra Cut will allow you to quickly and effortlessly remove scratches, even deep ones, present in the varnish layer. Its formulation allows to remove the sharp edges of the scratch, to polish them to attenuate the angle of reverberation of the light until erasing the scratch. Its formidable scratch removal qualities make it the ideal solution to bring your car body back to life.

Whether you're a homeowner or a professional, you'll appreciate the ease with which you can apply it. Its unique device (PadXpress) comes in the form of a foam with an integrated product tank. The Pad is immediately ready to use. A simple pressure and you release the regenerating cream developed by PadXpress. Thanks to its velvet/velcro fastener, the Pad can be attached to all polishing machine plates. Once the repair is finished, you can store your Pad for 1 year and take it out when you need it again.
Prerequisites

- Your bodywork must be clean and dry

- Shake the product well before use.

- Make sure that your polisher's plate is Ø125 mm in diameter
Instructions for use

1- Place the foam applicator on the polisher and select a maximum working speed of 1500 rpm.

2- Place the foam on the part of the body or fairing to be polished,

3- Apply vertical pressure on the foam (dry wrist stroke) to make the product come out of its tank

4- Work with regular crossed movements (from left to right and from top to bottom). For your car, select a speed of 1200 rpm, maintaining a light pressure on the foam for a good contact on the support, but without forcing.

5- Work on the area concerned. Once this area is treated, use your micro-fiber to wipe off the excess on the bodywork.

6- Repeat the operation as many times as necessary, depending on the surface to be treated.
7- Once the paint regenerator application is finished, it is strongly recommended to apply the High Performance Paint Regenerator (PC500) and finish by applying the Ceramic Film (Ref. PC550) or one of the Titanium treatments (Ref. PC510 / PC520) from PadXpress which will bring you a long lasting protection.

One PadXpress Paint Regenerating Foam is indicated to treat 1 car
Precautions for use


- It is preferable to protect clothing and to use gloves during the application.

- Avoid applying on plastic parts.

- Do not swallow, avoid contact with eyes.

- Do not dispose of product residue down the drain.

- Dispose of applicator foam at an authorized collection center.

- Do not use applicator foam for any purpose other than that for which it is intended.

- Keep out of reach of children

Data sheet
Brand

PadXpress

Name of product

PadXpress Auto - Ultracut Treatment

Product type

Ultra Cut

Utilisation

Any type of painted body

Benefits and gains

Eliminates deep scratches and blemishes. Removes paint mist. Brings shine and brightness to your paint.

Applicable to

Process 1 car

Pad diameter

125 mm

Weight

230 grams

Duration and conservation of products

Store foam in its box, in a dry place (maximum temperature 25°C) and away from light. To be used within 12 months of opening

Type of packaging

Carton

Item(s) included in the box

1 Pad diameter 125 mm with integrated tank

Adapter plate Ø125mm for polisher (Ref. PC505)

NOT SUPPLIED - May be purchased at extra charge. Available on site: "Adapter tray 125 mm diameter for polishing machine (Ref. PC505)

ISBN

3760299740274

Equipment(s) required

Rotary polisher (incompatible with orbital polishers)