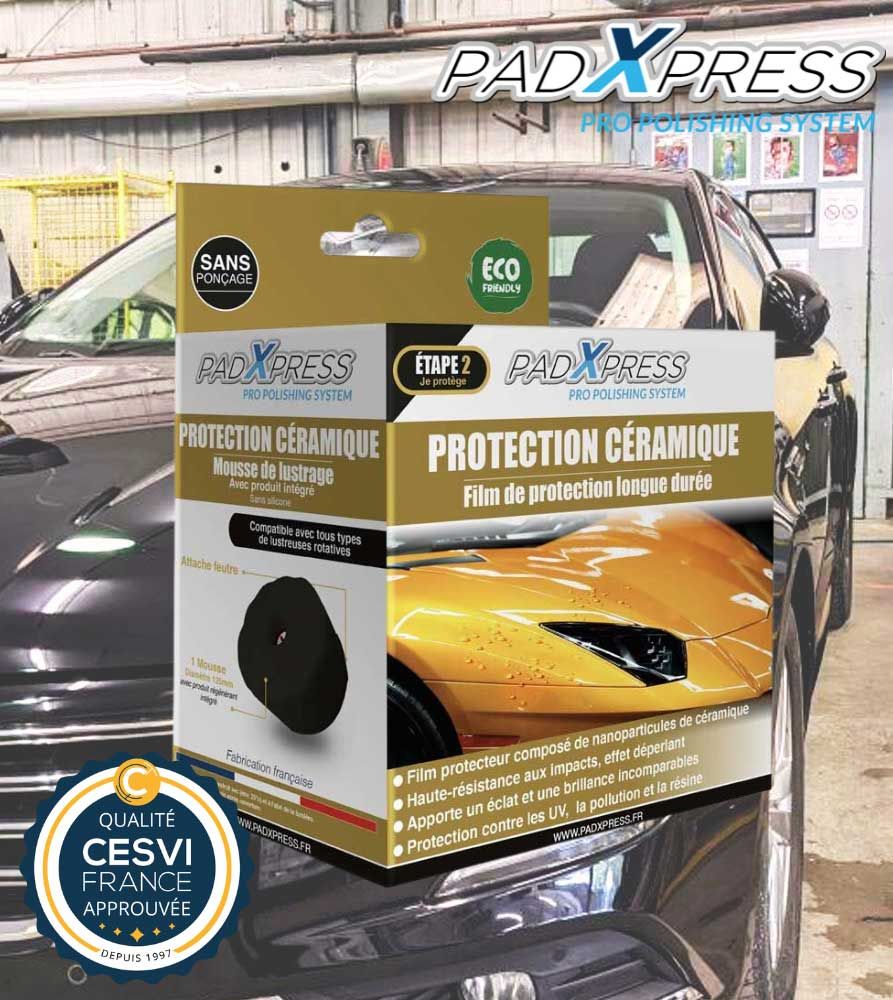  
Automotive Polish - Long lasting ceramic protection film - Ø125mm - (PC550)
Automotive Polish - Long lasting ceramic protection film - Ø125mm - (PC550)
Protective film made of ceramic nanoparticles (Silicon)
Brings an incomparable shine to your paint
Highly resistant to impacts
Protects from UV and sunlight, acid rain, pollution, resins and sap
Water repellent effect
Treatment valid for 2 cars
Easy to use and without spraying 8x faster than a traditional technique
The ceramic treatment is directly integrated into the polishing foam.
One pulse against the surface to be treated and the product is released.
Eco-Friendly
An approved and certified action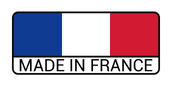 Ceramic Protection PadXpress: The Ultimate Polish for Your Vehicle
After applying the "High-Performance Paint-Specific Regenerating PadXpress" (Ref. PC500) or the "Anti-Hologram PadXpress Treatment" (Ref. PC540) effortlessly renewing your vehicle's bodywork, it is highly recommended to apply the "PadXpress - Long-lasting Nanotechnology Ceramic Protection Film.
Gloss, brilliance, and protection for your bodywork.
Ceramic protection delivers an unparalleled shine and brilliance (approximately 30% more) along with a long-lasting protective film for your paint. Repellent, non-adhesive, and resistant to impacts and aggressions (micro-scratches), the PadXpress ceramic treatment is tailored for the most discerning.
Effortless Application of Ceramic Polish
Whether you're an individual or a professional, you'll find that applying PadXpress is remarkably straightforward. In just 30 minutes, you can apply it to a properly prepared vehicle. This unique treatment in the world comes in the form of a foam with an integrated product reservoir. A simple press is all it takes to release the PadXpress treatment. The pad is equipped with a velour attachment that allows it to securely fasten to all polishing machine plates.
Prerequisites
    Your bodywork must be clean and dry.
    Shake the product well before use
    Check that the diameter of your polisher plate is Ø125
Instructions for use
 Position the pad on the polisher
    Place the foam on the part of the bodywork to be polished
    Apply vertical pressure to the foam (brief pulse) to release the product from its reservoir
    Work with regular criss-cross movements (from left to right and top to bottom) at 1500 rpm maximum, maintaining light pressure on the foam to ensure good contact with the surface, but without forcing it.
    Work evenly over the entire vehicle.
    Once the bodywork has been treated, leave the product to soak in for 1 hour, then use your micro-fibre to wipe the excess off the bodywork.
    Repeat the operation as many times as necessary, depending on the surface to be treated.
Precautions for use
It is preferable to protect clothing and use gloves during application.
Do not swallow, avoid contact with eyes.
Do not dispose of product residues down the drain.
Dispose of the foam applicator at an authorised collection centre.
Do not use the foam applicator for any purpose other than that for which it is intended.
 Do not leave within the reach of children. in a dry place protected from light and use it within 12 months of opening