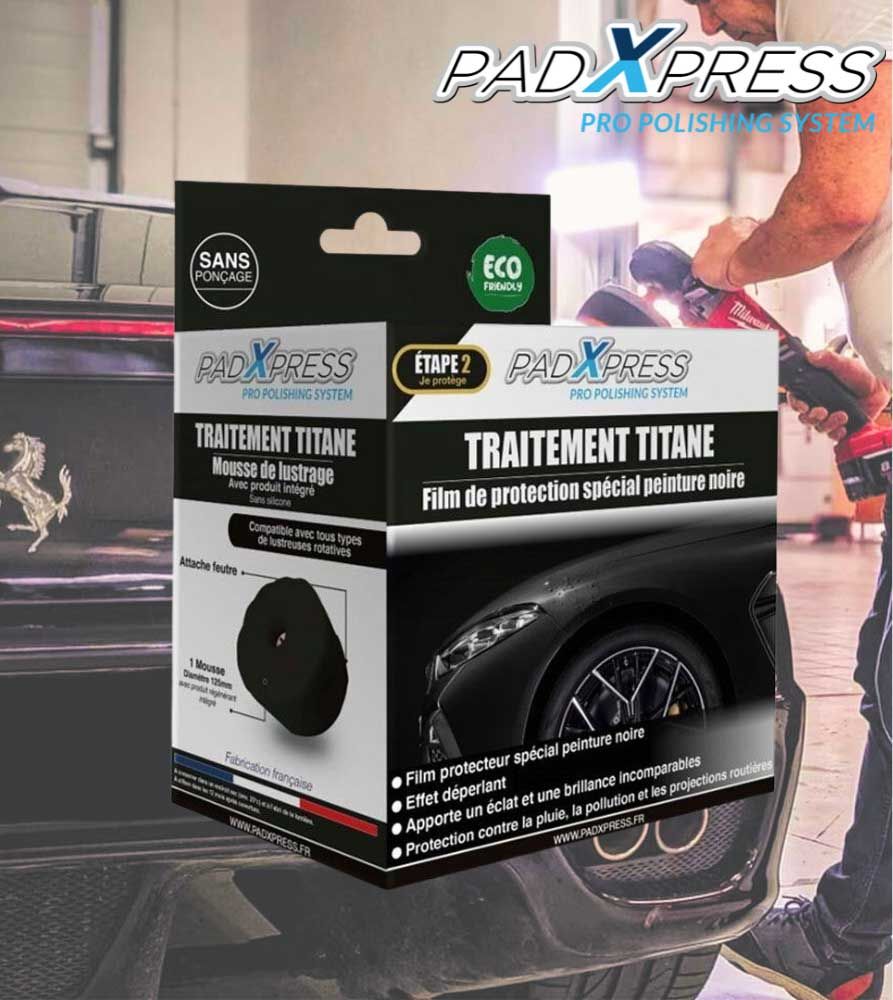  
PadXpress Car - Titanium treatment Special black paint - Long lasting protection film - Ø125mm - (PC520)
PadXpress Car - Titanium treatment Special black paint - Long lasting protection film - Ø125mm - (PC520)
Special long lasting protective film for black paint
Brings an incomparable shine to your black paint
Protects against road projections (rubber, dust, pollution...)
Water repellent effect
Body treatment (Ø125) valid for 2 cars
Easy to use. Without projection.
The Titanium treatment polish is directly integrated into the polishing foam.
A pulse against the surface to be treated and the product is released.
Eco-Friendly
An approved and certified action
Why choose PadXpress Titanium treatment to polish black or dark cars?


Time, weather, sun and UV light all contribute to the aging of your car body on a daily basis. Over time, your car's paint loses its shine and luster.

After applying "PadXpress High Performance Paint Regenerator" (Ref. PC500) or "PadXpress Anti-Hologram Treatment" (Ref. PC540), to effortlessly renew your vehicle's bodywork, it is highly recommended to apply "PadXpress - Ceramic Protection Film - Long Lasting Nanotechnology" or "High Performance Titanium Treatment for Black Paint" (Ref. PC 520).

Data sheet
Brand

PadXpress

Name of product

PadXpress Auto - Special Titanium Treatment for Black Paint

Product type

High performance protective film

Utilisation

Black paint treatment

Applicable to

Process 2 cars

Pad diameter

125 mm

Duration and conservation of products

Store foam in its box, in a dry place (maximum temperature 25°C) and away from light. To be used within 12 months of opening

Type of packaging

Carton

Item(s) included in the box

1 Pad diameter 125 mm with integrated tank

Adapter plate Ø125mm for polisher (Ref. PC505)

NOT SUPPLIED - May be purchased at extra charge. Available on site: "Adapter tray 125 mm diameter for polishing machine (Ref. PC505)

ISBN

3760299740229