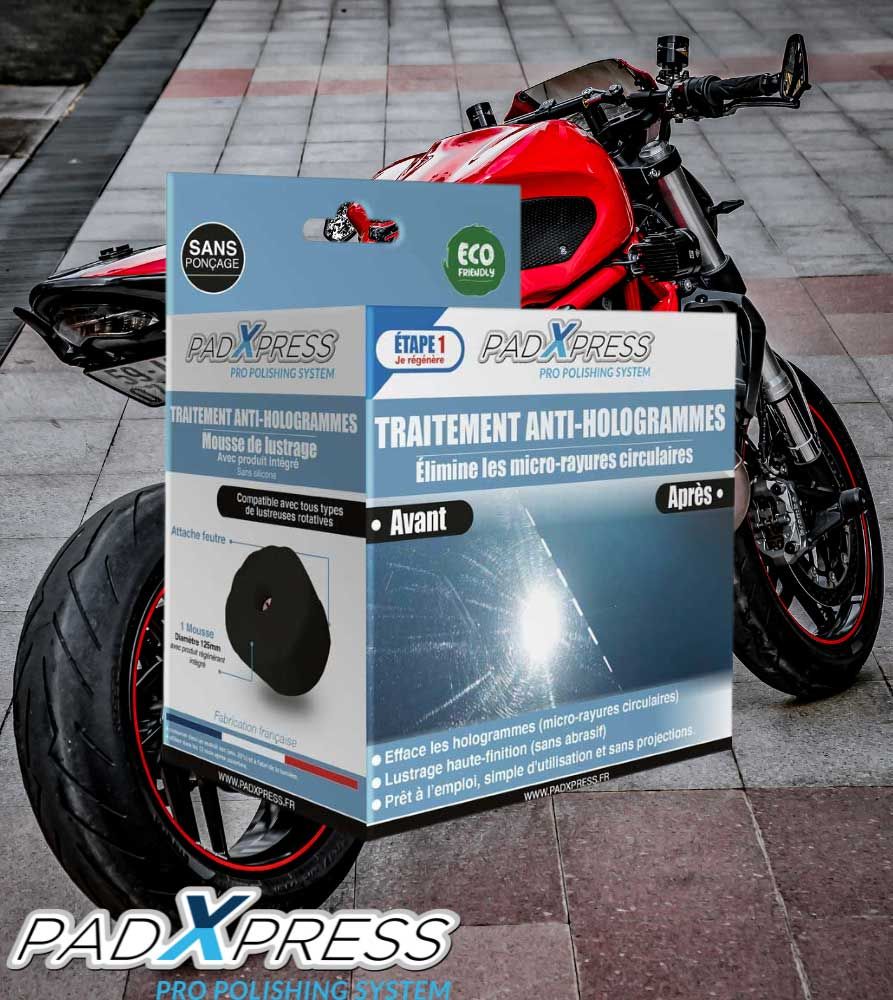  
PadXpress Moto - Motorcycle body and hull anti-hologram treatment - Ø80mm (PC570)
PadXpress Moto - Motorcycle body and hull anti-hologram treatment - Ø80mm (PC570)
Removes holograms (circular micro-scratches)
High-finish shine Body treatment for 2 motorcycles
4 times faster than traditional techniques
Easy to use
The paint polish is directly integrated into the polishing foam.
An impulse against the surface to be treated releases the product.
The nanotechnological solution is 100% biodegradable
Approved and certified action
A smart choice for a perfect finish: Motorcycle polish and anti-hologram treatment.
Restore your motorcycle's original beauty with our anti-hologram polish.
Our anti-hologram polish and treatment for motorcycles is the perfect solution for eliminating annoying holograms and restoring your motorcycle's original shine. Specifically adapted for fairings and tanks (pad 80mm), our product is formulated to eliminate marks left by successive washings and rubbing. With PadXpress PM570, unsightly holograms are a thing of the past.

Data sheet
Brand

PadXpress

Name of product

PadXpress Moto - Anti-hologram treatment for motorcycle bodywork

Product type

Polish traitement anti-hologramme

Product reference

PC570

Utilisation

Any type of painted body

Benefits and gains

Removes holograms (circular micro-scratches) from your bodywork and hulls. High-gloss polishing.

Applicable to

Treat 2 motorcycle

Pad diameter

80 mm

Weight

80 grams

Duration and conservation of products

Store foam in its box, in a dry place (maximum temperature 25°C) and away from light. To be used within 12 months of opening

Type of packaging

Carton

Item(s) included in the box

1 Pad diameter 80 mm with integrated tank

Ø80mm adapter plate for screwdriver (Ref. PC531)

NOT SUPPLIED - May be purchased at extra charge. Available on site: "Adapter tray diameter 80mm for screwdriver-unscrewer (Ref. PC531)

ISBN

3760299740298

Equipment(s) required

Rotary screwdriver or polisher (circular)