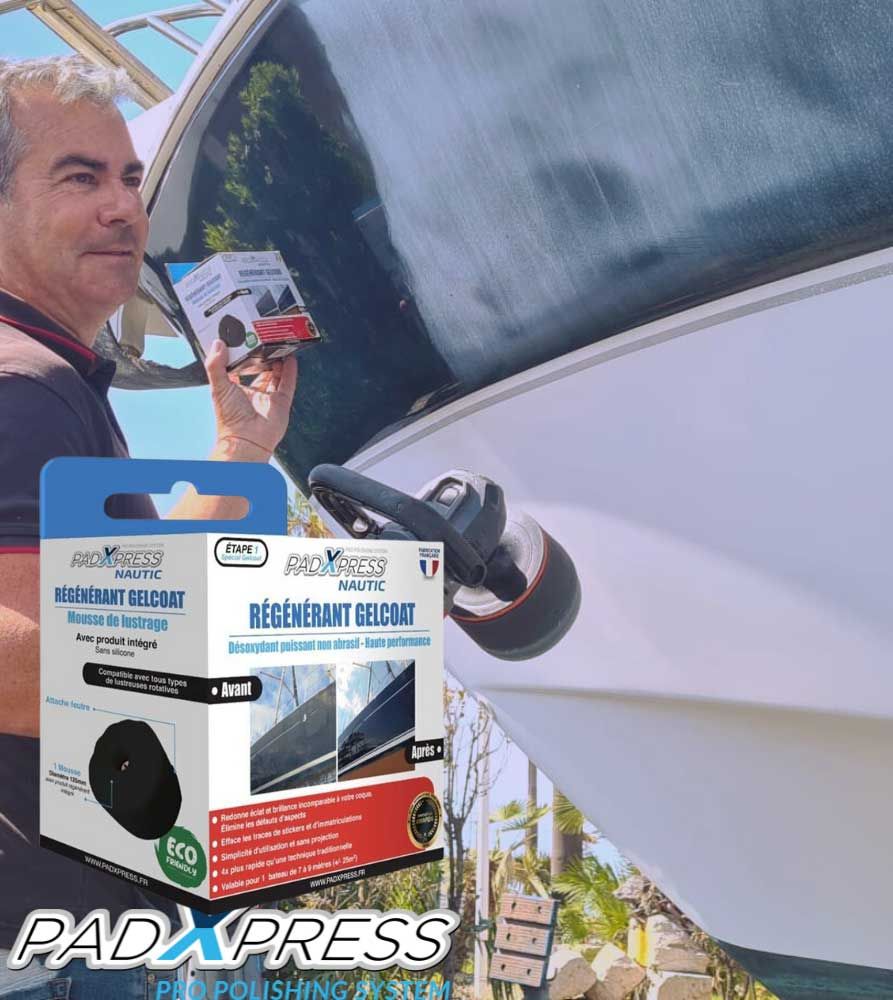  
PadXpress Nautic - Powerful regenerating polish for Gelcoat boat hull - Without sanding - Ø125mm - (PB800)
PadXpress Nautic - Powerful regenerating polish for Gelcoat boat hull - Without sanding - Ø125mm - (PB800)
Special regenerating polish for gelcoat shell.
Restores shine and depth to your gelcoat shell.
Removes scratches and marks on your hull.
Erases the traces of stickers and registrations.
The regenerating polish is directly integrated into the 125 mm diameter gloss foam.
The Gelcoat regenerating polish pad is valid for a boat from 7 to 9 meters (in normal use).
The gelcoat regenerating polish is directly integrated into the gloss foam. An impulse against the shell and the product will be released.

Eco-Friendly.

An approved and certified action.
Why use PadXpress Gelcoat Regenerator?
Over time, boat hulls oxidise and lose their shine and gloss, giving the impression of a boat in poor condition. PadXpress Special Gelcoat Hull Polish is a powerful, non-abrasive regenerator that effortlessly restores your boat's hull. Its deoxidising qualities make it the ideal solution to bring your gelcoat hull back to life, thanks in particular to its ease of use without prior sanding and its power to eliminate appearance defects. For a long-lasting shine, apply PadXpress Nautic Ceramic Protection (PB550). Your boat will regain its shine in record time (4 hours for a 7 metre boat). No more endless hours of stripping, sanding and repainting your boat.
Prerequisites
Your hull must be clean and dry If your hull has been previously treated / washed with acids, we advise you to lightly sand with "2000 or 3000 grain" paper before starting the PadXpress Nautic treatment. Acid can cause a deterioration of the colour enhancement. Make sure that your polisher's plate is Ø125 mm in diameter.
Instructions for use
Position the foam applicator on the polisher and select a maximum working speed of 1500 rpm.
Place the foam on the part of the hull to be polished.
Apply vertical pressure to the foam (dry flick of the wrist) to release the product from the tank
Work with regular criss-cross strokes, maintaining light pressure on the foam for good contact on the substrate, but without forcing.
Work in areas of approximately 1m². Once this area has been treated, use your microfiber to wipe the excess off the hull.
Repeat the operation as many times as necessary, depending on the surface to be treated.
Once the renovation is finished, it is strongly recommended to apply a protector/fixer (type PadXpress ceramic protection ref. PB550).
One PadXpress Nautic Regenerating Gelcoat foam is suitable for treating 1 boat of 7 to 9 metres.
Precautions for use
It is best to protect clothing and use gloves when applying.
Avoid applying to plastic parts.
Do not swallow, avoid contact with eyes.
Do not dispose of product residues down the drain.
Dispose of the applicator foam at an authorised collection point.
Do not use the foam applicator for any purpose other than that for which it is intended.
Keep out of reach of children.

Eco-Friendly.

An approved and certified action.

Data sheet
Brand

PadXpress Nautic

Name of product

PadXpress Nautic - Special regenerating and powerful deoxidizing polish for gelcoat boat hull

Product type

Special regenerating and powerful deoxidizing polish for gelcoat boat hull

Product reference

PB 800

Utilisation

Any type of gelcoat boat hull

Applicable to

Treat 1 boat from 7 to 9 meters

Valid treatment duration

1 year if applying the PadXpress ceramic protective film in step 2 (PB550 or PB560)

Pad diameter

125 mm

Weight

230 grams

Duration and conservation of products

Store foam in its box, in a dry place (maximum temperature 25°C) and away from light. To be used within 12 months of opening

Type of packaging

Carton

Item(s) included in the box

1 Pad diameter 125 mm with integrated tank

Adapter plate Ø125mm for polisher (Ref. PC505)

NOT SUPPLIED - May be purchased at extra charge. Available on site: "Adapter tray 125 mm diameter for polishing machine (Ref. PC505)

ISBN

3760299740106