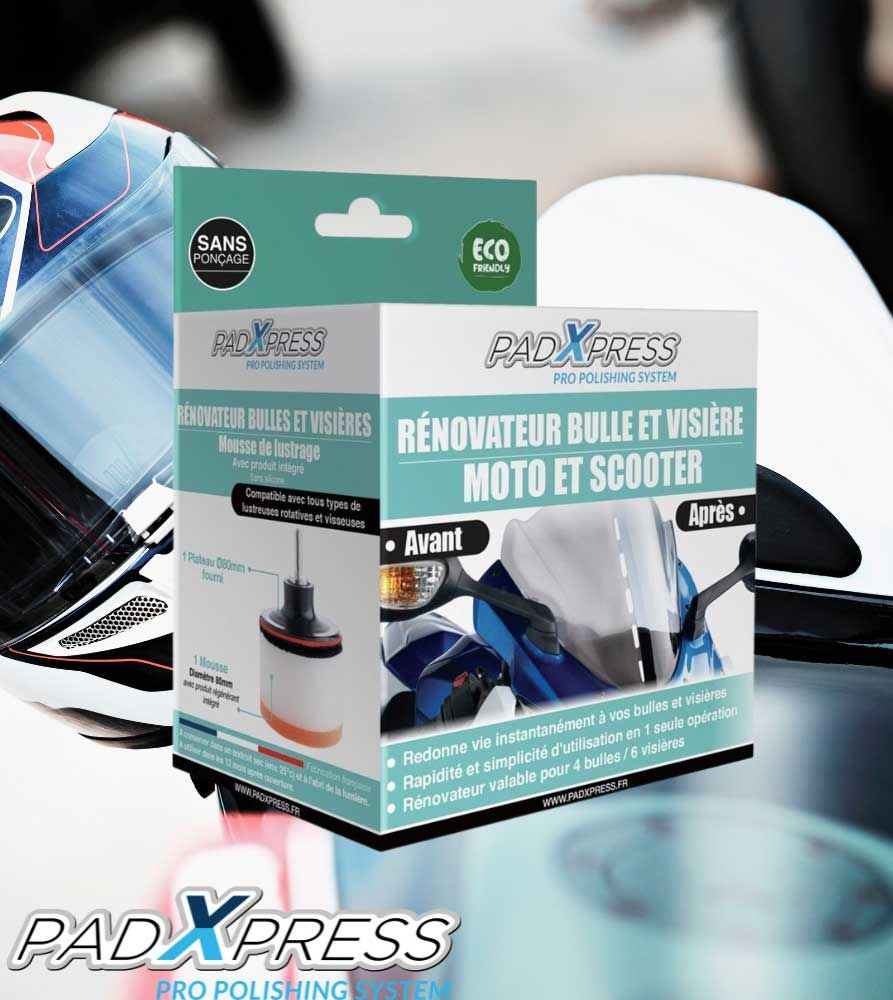  
PadXpress Moto - Bubble and Visor Cleaner - Ø80mm (PMB530-1)
PadXpress Moto - Bubble and Visor Cleaner - Ø80mm (PMB530-1)
PadXpress - Bubble and Visor Restorer - Ø80mm
Restores transparency and shine to Plexiglas and polycarbonate visors and bubbles
Removes micro-scratches and oxidation without sanding or varnishing
Joint protection not required
Supplied with Ø80mm plate for screwdriver attachment Ready to use, easy to use and splash-free
Eco-Friendly
Approved and certified action
Restores clarity and shine to your Plexiglas or polycarbonate visors and bubbles

Restore the dazzling transparency of your Plexiglas or polycarbonate visors and bubbles with our PadXpress Bubble and Visor Restorer. With this revolutionary product, you'll say goodbye to the micro-scratches and oxidation that dull their appearance and impair vision. Never change them again, and enjoy a smooth, crystal-clear surface that will delight your eyes.

Our special formula works deep down, eliminating imperfections without the need for tedious sanding or varnish application. With PadXpress, you can restore your visors and bubbles to their original appearance without damaging them.
Ultimate, hassle-free protection

Forget the hassle of protecting seals! With our PadXpress Bubble and Visor Renovator, you don't need to worry about the rubber or silicone seals surrounding your visors and bubbles. Our formula has been specially designed not to damage or alter these seals, giving you total peace of mind.

You can rely on PadXpress to safely renovate your visors and bubbles, without the risk of further deterioration. Take advantage of our product's ease of use and let the results speak for themselves!
A practical, easy-to-use solution

With PadXpress Bubble and Visor Renovator, we've thought of everything to make your life easier. Each kit comes with a Ø80mm tray, specially designed to fit your screwdriver. Simply attach it and you're ready to start renovating your visors and bubbles.

Our product is ready-to-use, which means you can get started immediately without having to worry about preparing or mixing complex solutions. PadXpress is designed to be easy to use, with no unnecessary spills or mess. Renovate your visors and bubbles quickly and efficiently, and enjoy their shine like new!
Data sheet
Brand

PadXpress

Pad diameter

80 mm

Weight

80 grams